Weddings
Wedding Venues
Sitting on the beautiful sculpted slopes of Mauna Kahalawai (west Maui mountain), The King Kamehameha Golf Club offers amazing panoramic views of Mt. Haleakalā and both the North and South Shores of Maui. Enjoy the amazing views, award winning cuisine and spectacular service. Our properties are perfectly manicured and designed to give every event a feeling of intimacy and prominence.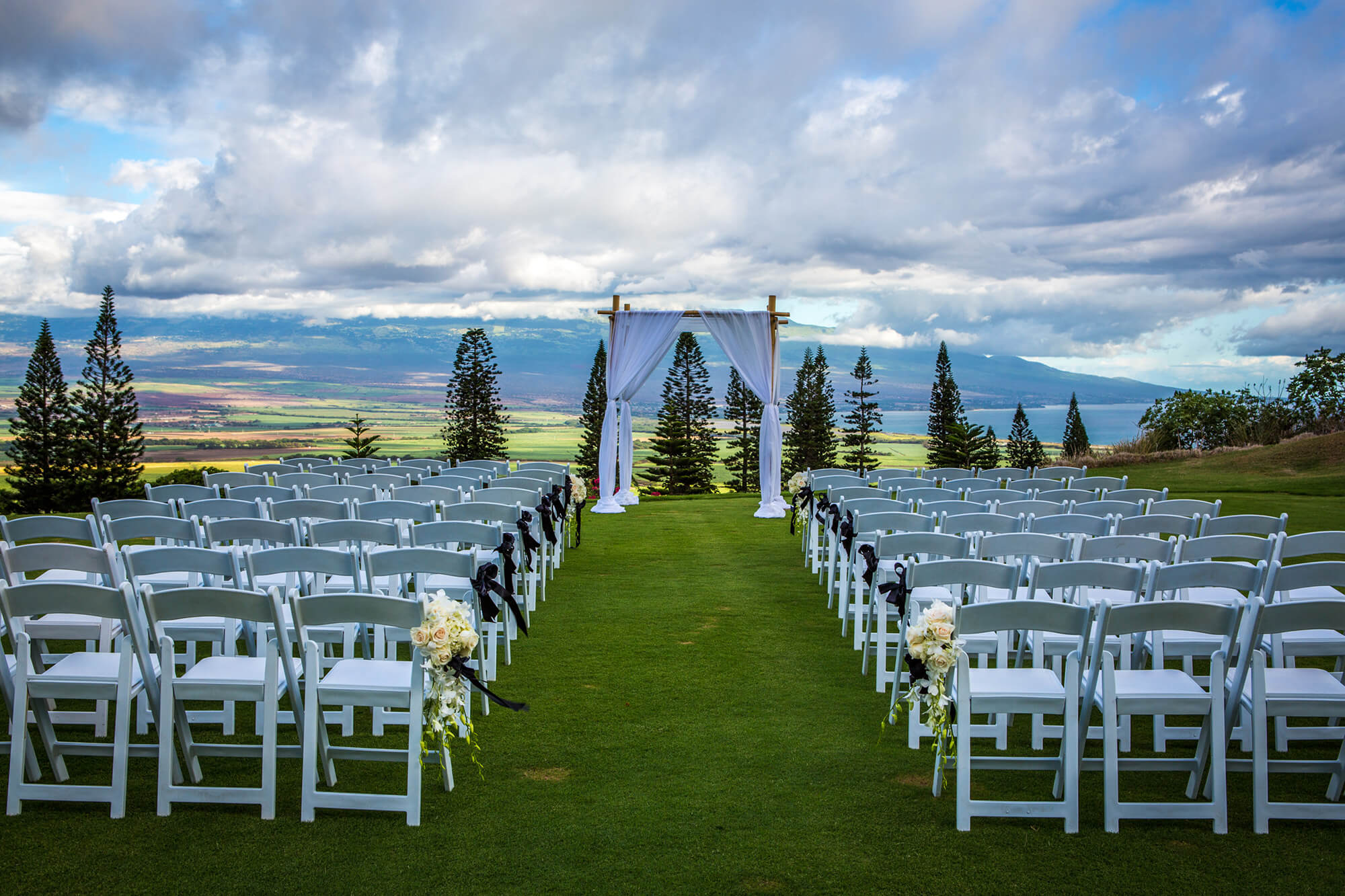 KAHALAWAI TERRACE Capacity 150*
Kahalawai Terrace is one of our beloved outdoor ceremony locations. It features the most spectacular views, as far as the eye can see. You'll feel as though you're on top of the world. It's private setting, overlooking Haleakala and both the north and south shores, makes it the perfect place to join in matrimony.
*Includes up to 40 White Padded Chairs; additional chairs available. The location use in conjunction with Wedding Reception or ceremony Only.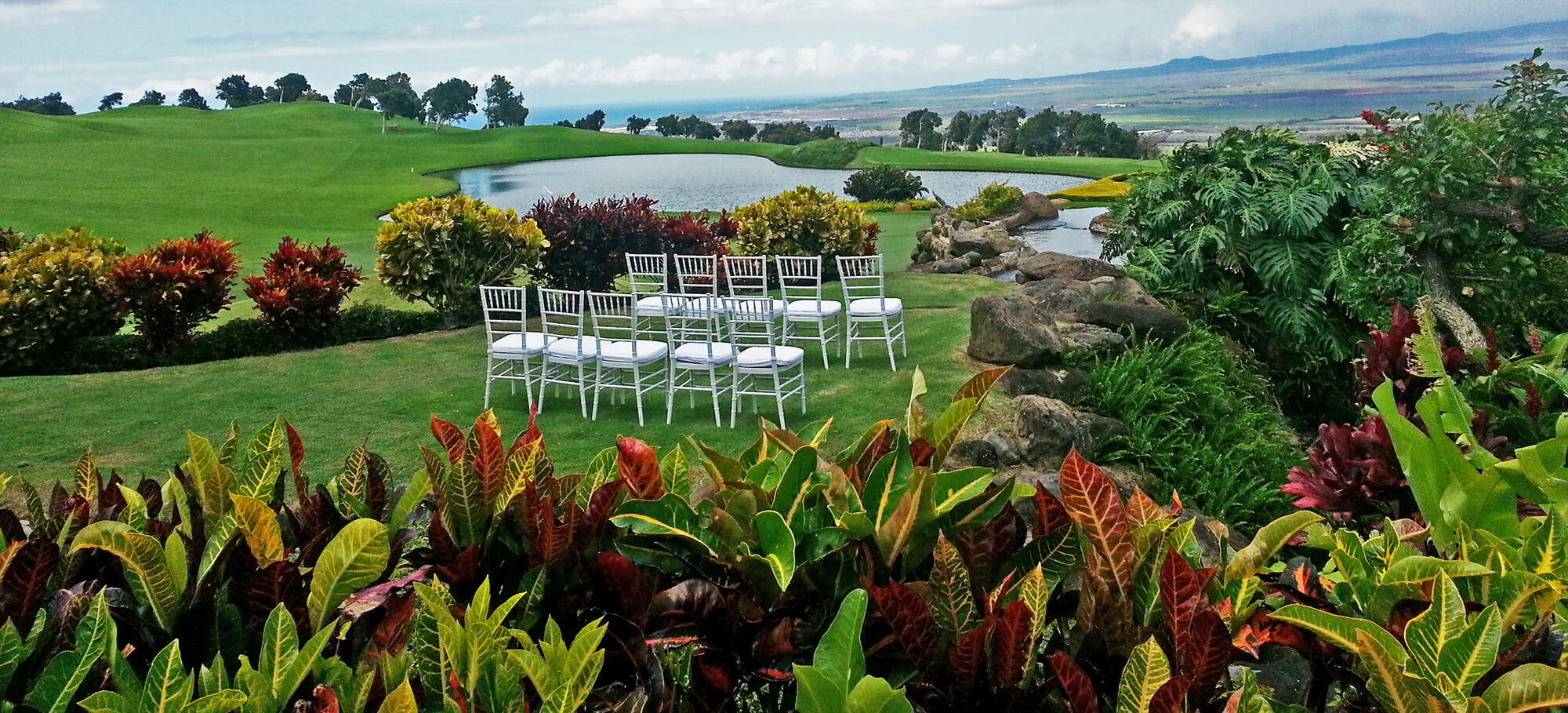 HOAPILI GARDENS Capacity 12*
The Hoapili Gardens is our intimate ceremony location. The gardens are perfectly manicured with colorful tropical foliage surrounding the running waters. As the bride walks down the aisle, she crosses a bridge over the running stream. The nuptials are recited above a waterfall that flows into a koi pond. 180 degrees of water, lush tropical foliage, and a view of Haleakala is what makes Hoapili Gardens the perfect tropical ceremony site.
* Includes up to 12 White Padded Chairs. Location use in Conjunction with Wedding Reception or Ceremony Only.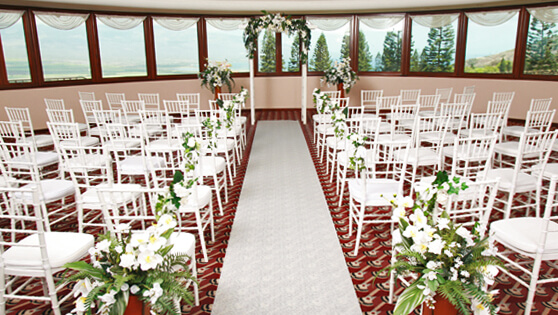 HO'OHENO ROOM Capacity 100*
Ho'oheno means 'to cherish' in Hawaiian. The name perfectly suits our indoor wedding venue. It offers a magnificent view of Mt. Haleakalā , the North shores, and the beautiful sculpted slope of Mauna Kahalawai. *Includes up to 60 chairs; additional chairs available. Location in Conjunction with Wedding Reception or Ceremony Only.
Wedding Reception Venues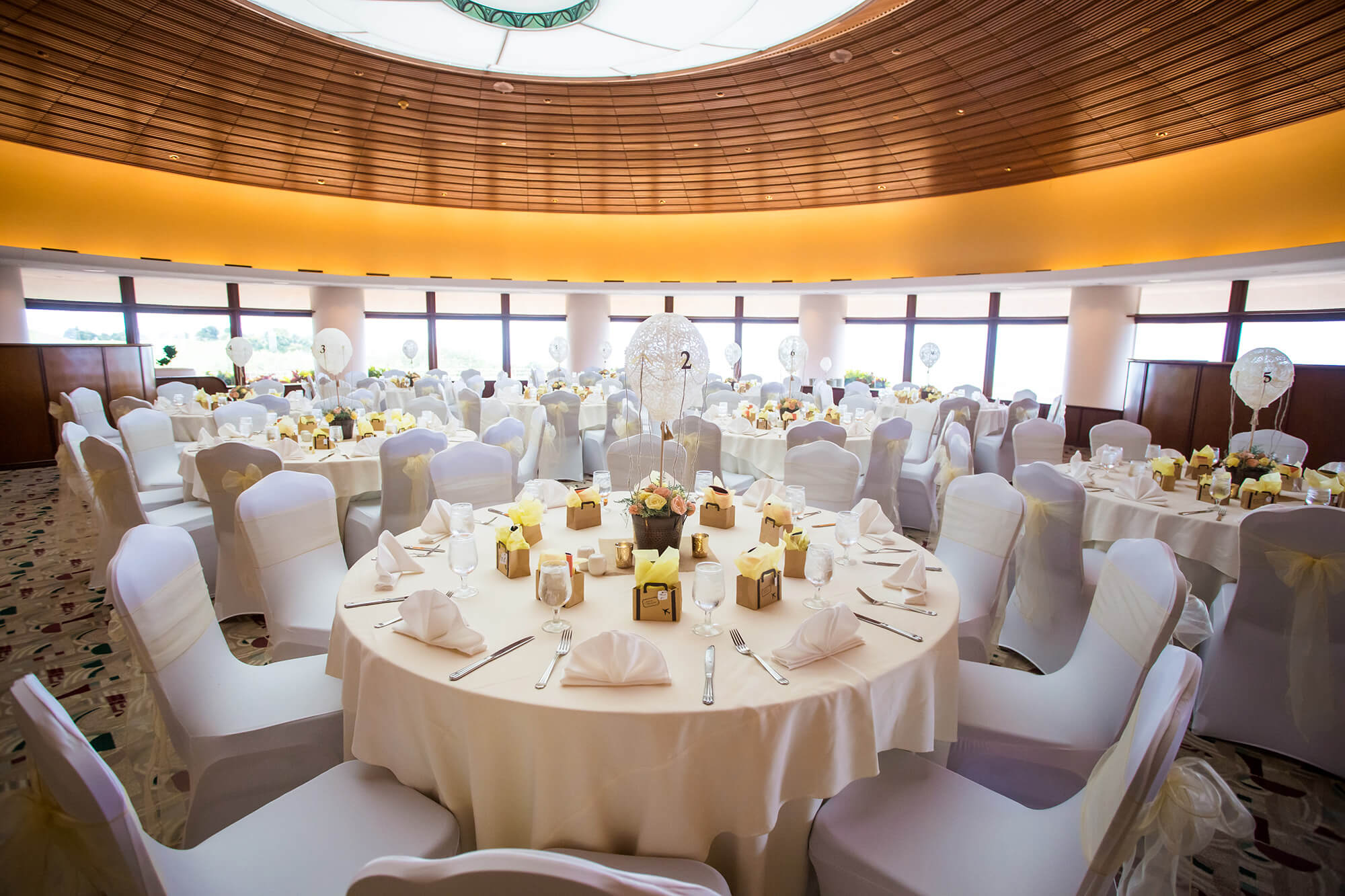 Waikapū Ballroom Capacity 350
Grand is nothing short of a word when you step through the double stained glass doors. Suddenly you are transported into a world of opulence and luxury. The Waikapu Ballroom offers expansive views of the golf course with the full view of majestic Haleakala, and panoramic views from Maui's North Short to Ma'alaea Bay and beyond.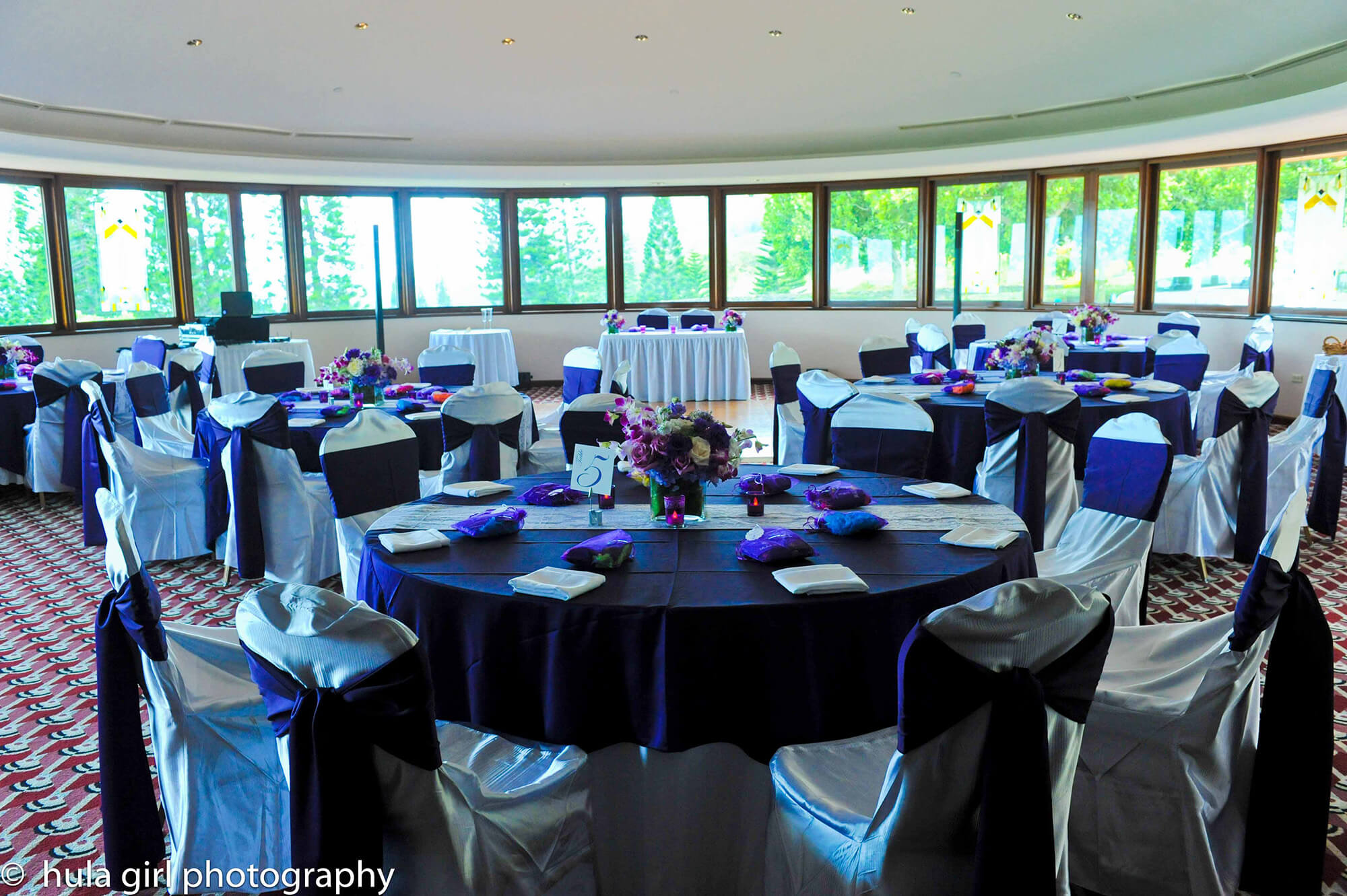 Hoʻoheno Room Capacity 100
This domed, semicircle room portrays the true architectural genius of Frank Lloyd Wright/ The natural light shines through the 180 degrees of windows. It has perfect views of Halkeakala, the south shores and the beautifully sculpted slopes of Mt. Kahalawai.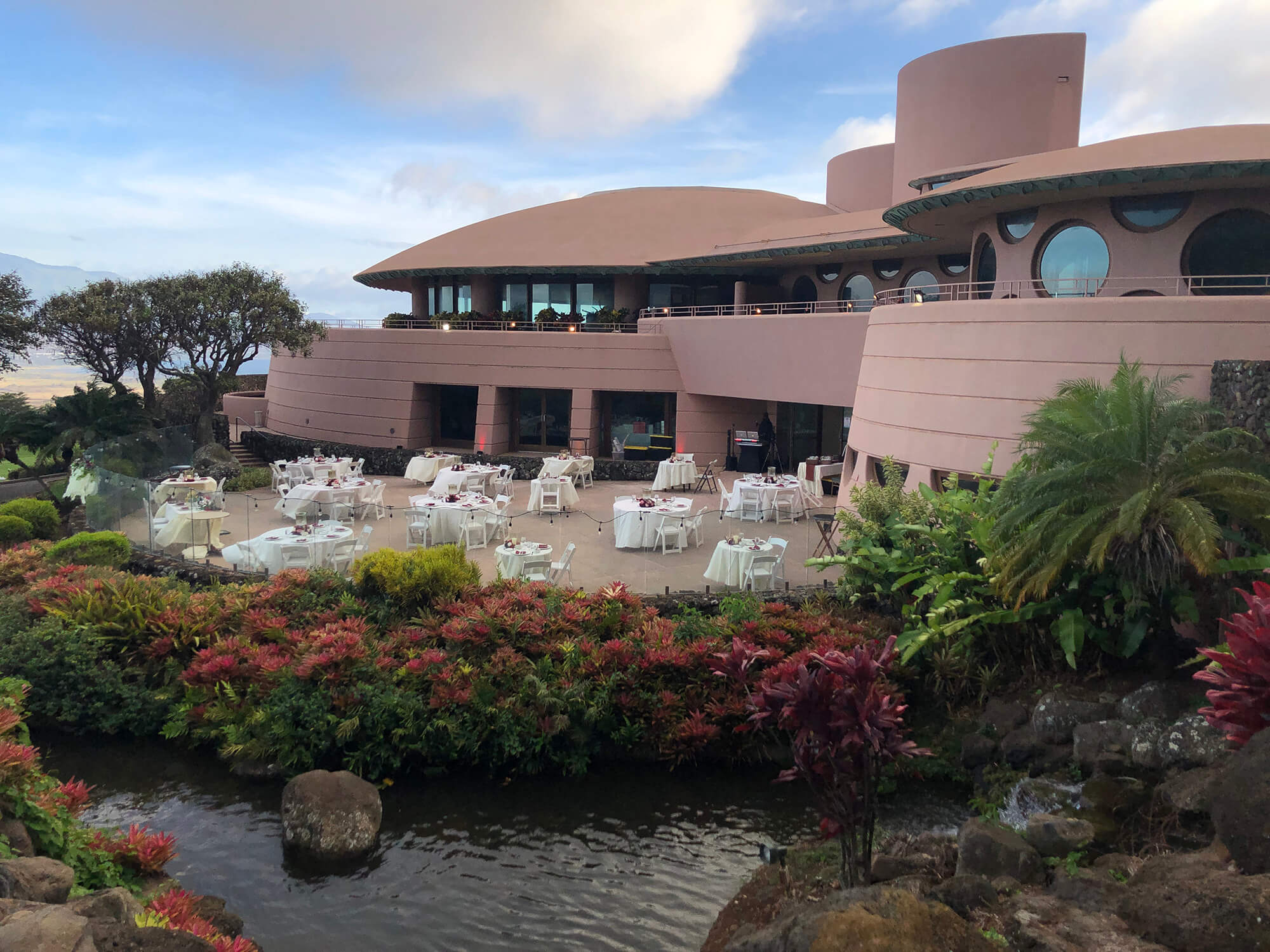 Sun Court Capacity 80
Surrounded by the water walls and pond, the full views of Mauna Haleakala and the 18th hole, it's the perfect venue for celebrations! (Outdoor venue. Subject to availability.)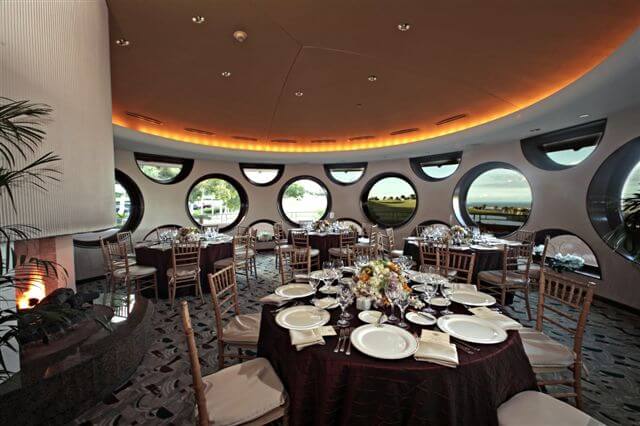 Hanohano Room Capacity 30
This intimate setting includes a fireplace and pure privacy. There are no interruptions during your important event in the Hanohano Room. Its circular windows overlook the 18th hole, the north shore of Maui, Haleakala, and the south shore of Maui.